The most comfortable and effective CAM boot option for Achilles ruptures. The cotton terrycloth liner and vacuum insert custom mold to your foot for optimal support.
Adjustable angle setting and range of motion unlock advanced treatment protocols.
Indications
Achilles tendon rupture
Ankle fractures
Ankle joint replacement
Arthrodeses of the upper & lower ankle joint
Calcaneus fractures
Complex ligament injuries
Severe sprain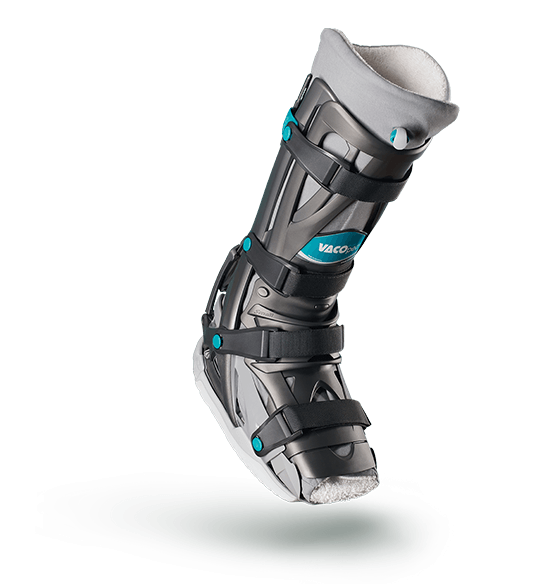 The Ultimate Achilles CAM Boot
Most comfortable
Custom molds to your foot
Adjustable Range of Motion
Washable liner
Swim in VACOped?
Most Comfortable Achilles Boot
Soft, 100% cotton terrycloth liner
Absorbent and breathable
Cotton liner is machine washable, but must air-dry (requires the purchase of second liner to wear while the first one is air-drying)
Custom molds to your foot
360 degrees of comfort and stability
Swim in your VACOped CAM boot
Don't let your injury ruin your vacation!
Only with permission of doctor
More Advanced Treatment Protocols
Adjustable Range of Motion (ROM)
Early weight bearing and ROM stimulates early Achilles tendon healing
ROM for advanced, conservative Achilles protocols:

SMART protocol
Exeter protocol
Leister protocol
| | Small | Medium | Large |
| --- | --- | --- | --- |
| Men's | 3.5 – 7.5 | 7.5 – 11.5 | 11.5 – 15 |
| Women's | 4.5 – 8.5 | 8.5 – 12.5 | 12.5 – 16 |
If you have any questions about sizing please don't hesitate to contact us at support@opedmedical.com for assistance. If you are in between sizes we generally recommend that you choose the smaller size. If you have a very large calf you may require additional accessories to accommodate (Liner Extension and Extra Long Strap).
Ask your doctor for VACOped CAM boot
You have the right to ask for the best product available. The VACOped CAM boot is often covered by Medicare and private insurance. You can also ask your surgeon if you can buy the VACOped by yourself and use it for your injury.
You as a doctor, surgeon, orthopedist or clinic want to buy VACOped?
You can order VACOped or any other OPED – Product by contacting our office.
To learn more about VACOped, check out our YouTube video!